Clarence Anthony as New Executive Director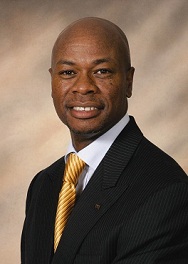 November 29, 2012
Washington, DC - The National League of Cities (NLC) today announced that Clarence E. Anthony has been named the association's new Executive Director.

Anthony will assume the Executive Director role at NLC in early January 2013. He will direct the operations, initiatives and staff of the association while working closely with NLC's leadership and membership to develop and implement a strategic plan advancing the interests of NLC's member cities. He will also serve as a key spokesman for America's cities and towns, advocating before federal policymakers and promoting municipal issues on behalf of the more than 18,000 cities represented by NLC.
"Clarence Anthony brings a wealth of experience to NLC. His service as mayor, as past president of our organization, and as a leader in the private sector will provide NLC with a winning combination in an executive director. Not only does he understand the challenges of cities, but he has the strategic management skills to guide the organization as it helps cities meet those challenges," said NLC President Ted Ellis, Mayor of Bluffton, IN.
"Cities are the lifeblood of America, and NLC is the organization which represents the interests of our city leaders," said Anthony. I am honored to have been selected as Executive Director of NLC. Becoming part of this team that is dedicated to helping make cities thrive is truly humbling. I look forward to working with the leadership and members of the National League of Cities to make it the "go-to" organization for cities."
The appointment was made by NLC's Board of Directors at NLC's Congress of Cities and Exposition in Boston. The annual gathering of 3000 city leaders provides a forum for exchanging best practices, networking and learning about new strategies for addressing city challenges.

Anthony has been a passionate and active member of NLC for over 25 years. He served as Mayor of South Bay, FL for 24 years and as NLC President from 1998-1999. He also served as Founding Treasurer of United Cities and Local Governments (UCLG), the international voice for local governments, for four years. Most recently, he served as the Interim Manager for UCLG. Anthony currently leads his own consulting firm, Anthony Government Solutions, and served as Chief Marketing Officer and Director of Government Relations with international engineering and environmental firms. He holds a master's degree in public administration from Florida Atlantic University.
Anthony will replace Donald J. Borut who served as NLC Executive Director for 22 years. Borut announced his retirement in May and will depart the organization at the end of this year. "Under Don Borut's leadership, NLC has grown and flourished as the voice and resource for cities, towns and villages throughout the United States," said Ellis. "We thank Don for his outstanding service not just to NLC, but to the cause of municipal government. "
For Anthony's full bio, please go to: http://www.nlc.org/about-nlc/nlc-leadership/executive-director.
The National League of Cities is dedicated to helping city leaders build better communities. NLC is a resource and advocate for 19,000 cities, towns and villages, representing more than 218 million Americans. For more information about NLC, visit www.nlc.org.