President Pardo's Gala Speech
Palm Beach County League of Cities
May 20, 2015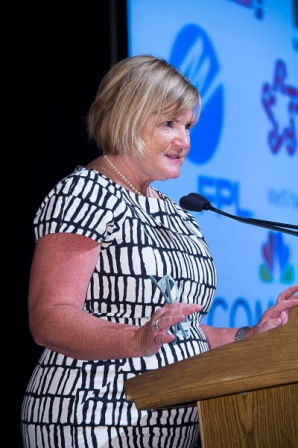 My passion was and still is, the preservation of two of the most precious resources we have; the beaches and waterways of Riviera Beach.
Since taking office in 2009, I have learned that the vitality and future of the Riviera Beach oceanfront as well as the submerged lands of the Riviera Beach portion of the Intracoastal Waterway, are inter-connected and dependent upon the treatment of these natural resources by our sister communities to our north and our south.
It is why I have become involved in regional organizations that focus upon eco-systems both within and outside of Palm Beach County.
In fact, it is the connectivity of communities and organizations that have proven to be a successful model in receiving federal, state and local funding for the preservation and protection of our beaches, and hopefully soon, the Lake Worth Lagoon.
So, it is with these thoughts that I began to formulate how I might serve as President of the League of Cities here in Palm Beach County.
How can I make a difference? How I can I leave my term next year and be able to look back and say I left the League better than when I started? And how do I integrate my motivation for serving in elected office to my presidency? And most importantly, what initiative can we accomplish collectively that will help each of our cities individually?
These goals and priorities are embedded in what I am proposing as a "city collaborative".
We all know Palm Beach County is rich in natural resources. And each city represented here today and as members in our county League has a portion of those resources which we try to individually protect and promote.
We also know individually how hard it is to prioritize the necessary funding to properly protect and preserve the natural beauty and use of these resources.
And I'm not just referring to the beaches and waterways along the eastern communities. We have the Loxahatchee River; Lake Okeechobee; Equestrian trails; canals; hiking trails; the scenic everglades, and more that each city relates more than another.
While the County continues to promote Discover the Palm Beaches as its theme to attract millions of out of state and international visitors, most of the burden to ensure our natural resources are kept pristine and available, which makes the Discover campaign successful, falls upon the individual cities.
For the next year, I propose that we come together under what I'm calling a "city collaborative framework" to link our individual city resources that can be recognized as a county-wide system of resources critical to the overall goals of economic development and job growth; tourism promotion, and property value increase.
The collaborative would have the following goals:
Recognize each individual city's resources that can or should be linked to a larger network
Develop a blueprint for linking each city's resource through either a single trail system or a series of trail systems that can be promoted through Discover the Palm Beaches.
Prepare a short term and long range funding strategy from county, state and federal sources for the planning, construction, maintenance and promotion of the trail system.
Prepare a funding strategy from county, state and federal sources for what I refer to as the 3P initiative for our individual resources: Protection; Preservation; and Promotion.
Develop a promotional campaign for each city to become a participant. 
Some of our cities clearly have more to offer than other cities. And some of our cities have more financial capacity to promote their community's resources than other cities.
It is in this disparity that I see a hidden opportunity that only the League is able to take advantage of through a city collaborative that recognizes and promotes each other's assets and brings them together as a brand new initiative that benefits all of us equally.
By connecting the Ocean to the Lake and everything in between, we offer to our visitors and residents alike the opportunity to experience all of our county's resources in a structured and accessible way which doesn't exist today.
Promoted professionally and properly, this leveraging our existing natural resources will hopefully result in funding and economies of scale which otherwise some of our cities might otherwise never realize.
I've spoken with some of you about helping to kick-off the collaborative concept through a newly formed League Committee.  I believe the group should be called the Ocean-to-Lake Trail Committee.
If you are interested in helping and participating, please let me or Richard Radcliffe know. I'm sure at some point, each city will be asked to designate an internal point of contact as well.
In the meantime, if there is anything at all you need or ideas or suggestions on how we can make the Palm Beach County League of Cities a better and more effective organization, please don't hesitate to contact me.
And that goes for our associate members as well. The businesses that support the League are critical to our success. It can't be said enough how vital you are and how much we appreciate your participation. I want to hear your ideas and thoughts as well.
I look forward to working with each of you as well as on behalf of each of you.
Thank you all, here's to a successful year ahead!
Dawn S. Pardo
Council Chair of Riviera Beach
2015-2016 League President